RF Receiver & Front End Design
Low Noise Signals Intelligence (SIGINT) and RF Data
HF thru Ka-Band Custom Designs
High Sensitivity
High Linearity
Low Noise Figure
High Efficiency
Varactor Tuned Front-End Filtering
Broadband Frequency Coverage
Automatic Gain Control (AGC)
High Interception Point
Small Form Factors
Extreme Ruggedization
Custom Designs
From concept through production, let NuWaves' highly qualified and experienced team provide you with a complete solution. NuWaves Engineering can guide you through the process of deriving the design specs necessary to achieve the performance you seek, designing and procuring hardware, and integration of the finalized product – all to expand upon your capabilities.
State of the Art, High Performance, High Dynamic Range Designs
Custom Receiver Designs and Enhancements to Existing Hardware
Intercepts RF Signals across Multiple Octaves & Downconverts to Standard IF
High Performance in High Signal Environments
System Modernization and Repackaging for Smaller Form Factor
Simple Command Interface to Control Frequency, AGC, Bandwidth, etc.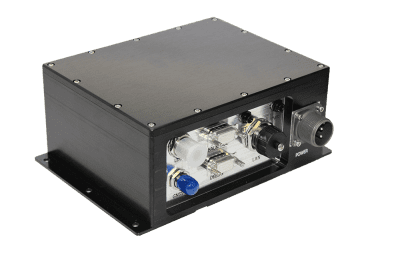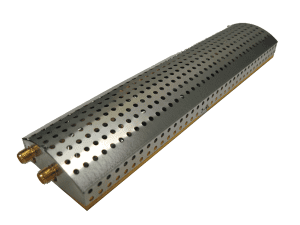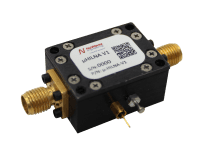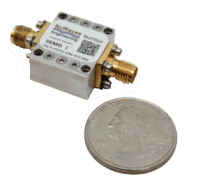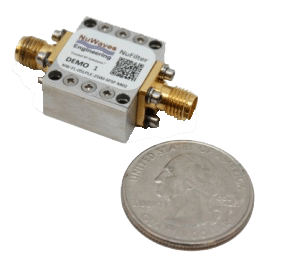 Check out some of our RF Front End blog topics:
NuWaves' RF Front End Design Experience Includes:
NuCeptor High Performance Intercept RF Receiver
NuWaves' NuCeptor is a RF front end designed to mate to the back end of a customer's existing Digital Signal Processor (DSP) to increase capability. This high dynamic range receiver operates over the VHF/UHF band and down-converts the received signal to an IF for digital sampling. The NuCeptor Receiver boasts extremely low noise figure, 3-stage high performance varactor tuned filtering, multiple IF, high IP3, multi-drop capability, and a miniature form factor. The NuCeptor operates across the military band in a myriad of applications for SATCOM receivers, COMINT, and SIGINT.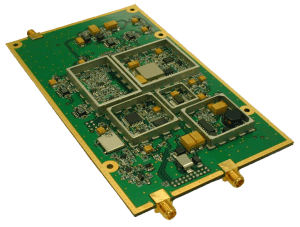 Miniature Digitally Tuned RF Receiver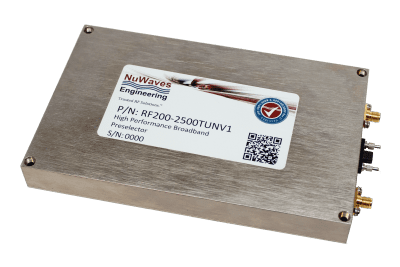 NuWaves' HiperTUNER is a state-of-the-art miniature RF Tuner utilized for RF signals in the band of 200 MHz to 2.5 GHz. HiPerTUNER meets the demanding need for high performance receiver pre-selector and transmit filtering for applications involving RF communications and signal exploitation, inclusive of SIGNIT, COMINT, and ELINT.
The HiPerTUNER integrates with a host controller or terminal program and utilizes a straight-forward command/control interface for ease of integration. The HiPerTUNER provides high-dynamic range performance with low noise figure and boasts superb multiple-cascaded varactor-tuned filtering achieving bandpass filter bandwidths of 1-3%.
X-Ceptor Intercept RF Receiver & Downconverter
NuWaves' X-Ceptor intercept receiver includes tunable front-end filtering over VHF, UHF, L, and S Bands. The high dynamic range receiver includes multiple tuned filter chains utilizing various bandpass filter techniques to achieve extremely high out-of-band attenuation. The X-Ceptor boasts AGC, MGC, GUI, < 1 Hz frequency resolution step size, and extremely low phase noise performance. Similar to the NuCeptor, the X-Ceptor is used in SIGINT, COMINT, and ELINT applications.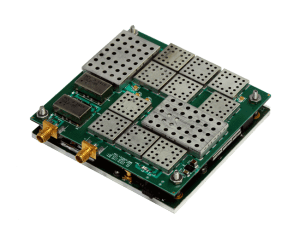 Low Noise Amplifier Designs
High Gain, High Intercept Point, Low Noise Figure
Single-stage LNAs – For use with Wireless LAN, Cordless Phones, and other 5-6 GHz Systems.

Multiple-stage LNAs – When needing a higher gain than a single stage LNA and is used in high performance receivers.


Multiple stages with inter-stage filtering – For ways of distributing data like satellite, cable, and microwave signals.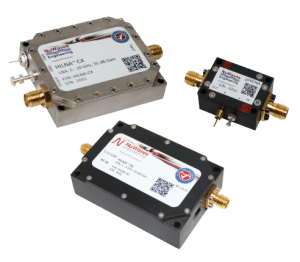 Tri-Band Front End Multiplier RF
R
eceiver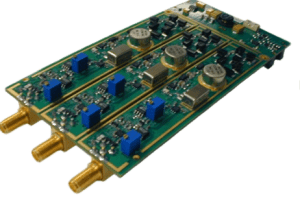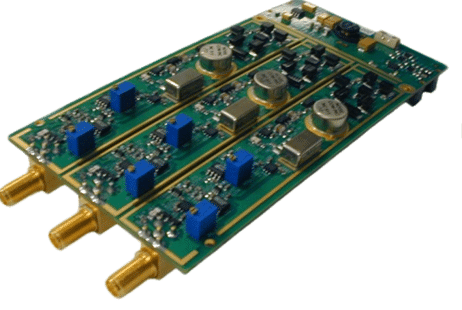 NuWaves designed and developed a multi-band Front-End filter employing tuned inter-digital filter techniques and the design of a multi-band multiplier for a telemetry system operating in L & S-Band.
L & S-Band Telemetry RF Receiver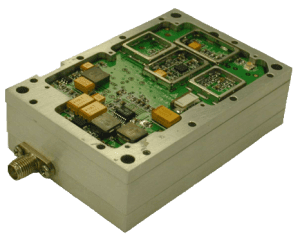 Development of L & S-Band Telemetry Systems receiver with an 18-month design effort. The receiver boasts three different configurations, a Lower L-Band, Upper L-Band, and S-Band, utilizing embedded RF filters in the design.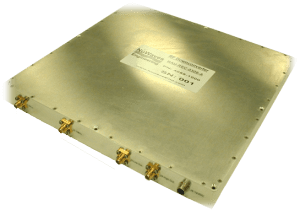 RF Downconverter for use in the reception of Military Sonobuoy Communication Signals. 60-day delivery from concept to production.
Third-Party RF Receiver & Tuner Evaluation & Repair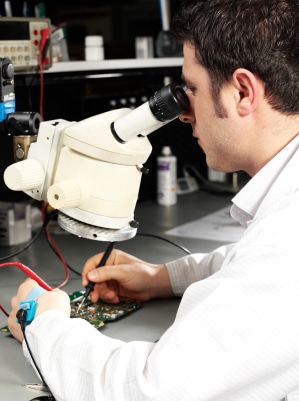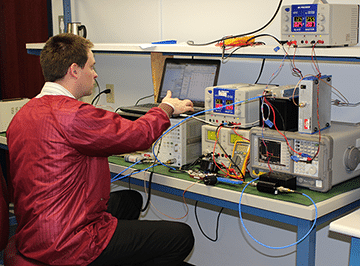 Overview
Evaluation, troubleshooting, and repair of any Receiver & Tuner modules without benefit of any technical drawings or documentation.
Highlights
Comprehensive evaluation and deep-dive analysis of the transmit and receive circuitry
Successful repair validated through third-party testing
Originally designated "beyond economical repair" by supplier, units were cost-effectively repaired and fielded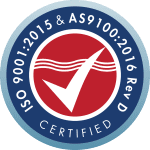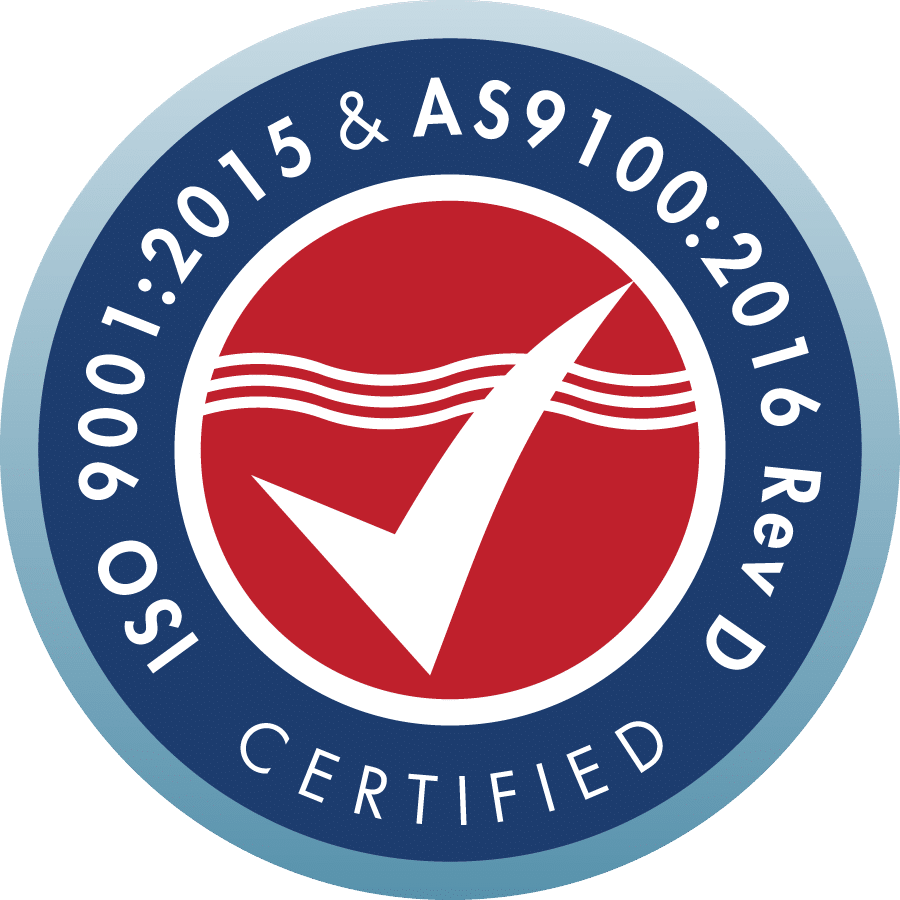 Contact NuWaves' RF Receiver and Front End Design Team
If you are interested in having NuWaves Engineering design a RF Receiver or Tuner for your team, click on the REQUEST ADDITIONAL INFORMATION button below, submit your contact information and a brief description describing your project and RF front-end requirements, and a member from our Engineering Services team will reach out to you within 24 hours.
NuWaves' in-depth knowledge, experience, and key personnel allow us to offer a full spectrum of solutions to maximize your RF capability and readiness, and engineer a lasting partnership. NuWaves Engineering is driven to advance your mission; challenged to achieve excellence.
Otherwise, click on one of the buttons below to continue checking out our capabilities and experience.