We employ quality management processes and are AS9100 and ISO9001 certified
NuWaves Engineering stays active in Small Business Innovation Research and therefore is able to leverage those same processes and technology into our customer's requirements. This includes being flexible to customer needs, leveraging our efficient supply chain techniques to procure the right materials and manufacturing our products to deliver on-time every time, if not sooner.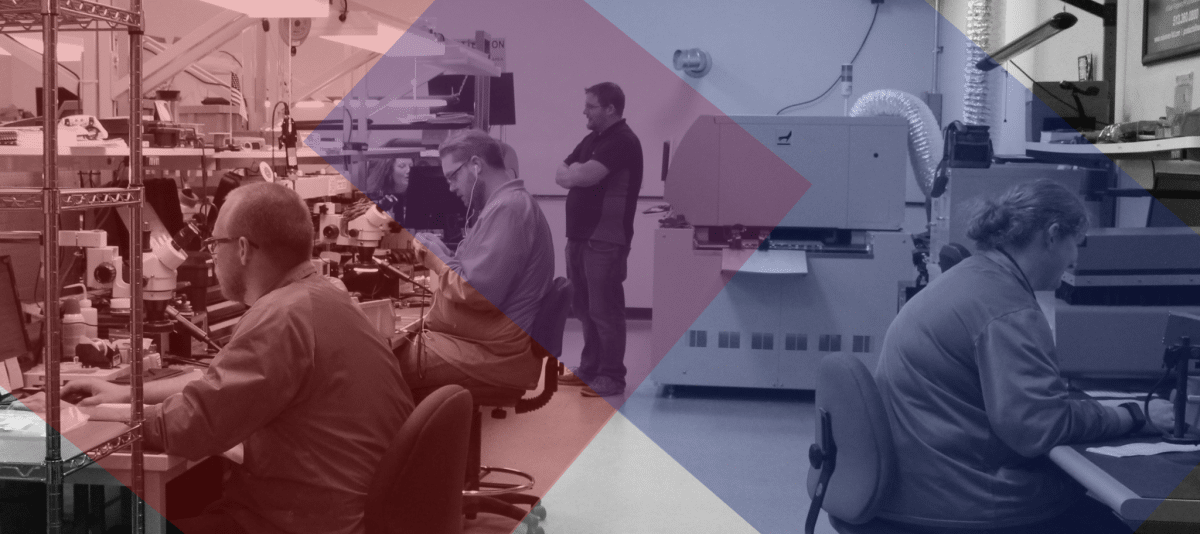 RF & Microwave Systems Contract Manufacturer & Assembly
NuWaves has invested significant resources towards in-house capabilities to improve prototyping, production, testing and more. Learn more about how these resources enable us to better serve our customers with quick-turn projects, high quality production builds, and thorough hardware performance evaluation.
Certified in:
IPC-A-610
IPC/WHMA-A-620
IPC-7711/IPC-7721 Rework and Repair
J-STD-001
Aerospace Electronics Manufacturing
We offer the complete turnkey solution to your electromechanical needs. Our manufacturing facility benefits from easy access to a wide array of RF systems assets. This includes:
In House Engineering Staff– NuWaves has a full team of 30+ in-house RF, Mechanical and Digital Design Engineers with a combined 100+ years of experience. This team stays active in the latest innovations through Small Business Innovative Research Projects. Each team member has a single point contact for easy accessibility of our customers. 
Circuit Card Assembly– We are capable of placing 0201, fine pitch QFN, LGA, and BGA up to 2″x 2″.
Machine Shop- Equipped with a HAAS DTM2 CNC mill, Knee and column mill, and Engine Lathe, to support our in-house prototype hardware.
XRay and Rework Machine- This machine combo is capable of holding PCB boards up to 12″ x 12″, fitted with IR thermal sensor, thermocouple, infrared heat aperture control, and optical alignment vision.
Reflow Oven– We have 7 top/bottom heating zones, lead-free certified, KIC X5 Profiler & Nitrogen capability.
Aqueous Batch Cleaning- Fitted with top/bottom, power basket spray, closed loop wash, DI water or chemistry application, and torrid zone force convection drying. 
Conformal Coating- Protect your electronics from chemicals, moisture and extreme temperatures. 
PCB Assembly
Build to Print
Design to Print
Environmental Testing
In addition to RF performance & validation testing, NuWaves also has the capability to conduct a wide variety of in-house environmental verification and qualification testing, including temperature, humidity, vibration, shock, acceleration, water immersion, and electromagnetic compatibility (EMC).
NuWaves is dedicated to the ruggedization, reliability, and overall quality of every piece of hardware that leaves our manufacturing facility. After all, the Warfighter must depend on hardware to endure harsh environments without sacrificing performance. That is why our products undergo a variety of environmental tests, whether it is to fulfill a specific customer requirement or to align with our internal quality procedures.
Production & Engineering Test
To complement the state-of-the-art Production and Engineering capabilities, NuWaves has invested significant resources to develop their Engineering Validation Testing, Environmental Testing, and Qualification Testing. NuWaves' capital equipment inventory includes but is not limited to, RF/Microwave Spectrum Analyzers, Signal Generators, Oscilloscopes, Power Supplies, Function Generators, Bit Error Analyzers, Modulation Analyzers, Frequency Counters, Network Analyzers, Noise Figure Meters, Optical Spectrum Analyzers, Function Generators, Humidity Chambers, Temperature Chambers, Burn-In Chambers, Water Immersion Tank, RF Screen Cages, and an Anechoic / EMI Chamber. In addition, NuWaves has a full complement of computers and support software dedicated to the engineering functions, operated by experienced and qualified RF engineers and technicians..
Automated Testing & Maintenance Hardware
In support of NuWaves' rapid-pace manufacturing is the company's advanced automated testing capabilities. NuWaves utilizes the industry's latest automated test software to complement our extensive in-house testing equipment to hasten the pace and accuracy of product testing.  Not only does NuWaves leverage this technology to test its own products, but it has also developed a stand-alone automated test station for a number of customers in the D.o.D. and aerospace industries, including the U.S. Navy Tactical Training Range (TTR) program, which allows the customer to test and verify operation of critical electronic subsystems in the field.
All of NuWaves's designs are built for ruggedization and durability to stand the test of time for our D.o.D. and aerospace customers.
Simulation Tools & Software
NuWaves has a powerful set of RF and mechanical design and simulation programs at its disposal, including a complete suite of linear, non-linear, and electromagnetic (EM) software analysis tools to perform the appropriate theoretical analysis. The linear analysis capability, which is used for small signal circuit design, can incorporate the measured performance of many components, thereby producing very accurate models which include component and PCB parasitics.
EM Software Packages
NuWaves' EM software packages include National Instruments' Microwave Office, CST Microwave Studio, Genesys, and Spark3D. NuWaves also leverages a powerful 3D electromagnetic field simulator program, EMPIRE XCcel, which is based on the Finite Difference Time Domain (FDTD) method. With EMPIRE XCcel, NuWaves can quickly and accurately simulate various antenna radiation patterns.
These tools provide an RF and wireless communications and radar systems design solution, supporting realistic measurements of cascaded RF blocks, identifying the source of spurious products and simulating system metrics such as bit error rates all from a single system diagram.
PCB Layout
All printed circuit board designs are developed using Allegro PCB and OrCAD Schematic Entry computer-aided engineering (CAE) software. The circuit Bill of Material (BOM) is generated directly from the schematic, ensuring accuracy of the component's part numbers, values, etc. The Allegro layout tool also utilizes the schematic information from the schematic entry tool, thus assuring that interconnects, component pin-outs, and footprints are correct.
RF Propagation Modeling & Site Survey
The prediction of path loss is very important in planning the deployment of communications devices. Regardless of range — close, long, or line-of-sight (LOS) — the path loss can be considerable as the waveform gets absorbed in vegetation, trees, and other obstacles. Understanding the RF propagation characteristics associated with deploying a communications system is key to establishing mission objectives and maintaining link closure.
NuWaves can help define the system specifications required for link closure, inclusive of receiver performance and transmit power requirements. We conduct propagation studies and site surveys up to decimetric wavelengths (frequencies to 8 GHz).
Should conditions warrant, NuWaves can develop a custom propagation model unique to your requirements using empirical and theoretical data. Site surveys offer the end user a unique and custom look into the noise or interferers that your system is operating with. A frequency plan can be designed with this data to improve the performance of your link.
Contact NuWaves when your next project requires RF Propagation Modeling and Analysis expertise.
Mechanical Design
NuWaves' experienced Mechanical Designers utilize SolidWorks, an industry leading mechanical CAD tool for 2D & 3D drawings, which allows the team to ensure that the mechanical design is optimized to fit within the smallest possible space for its smaller (size constrained) designs. This tool imports the physical size and position of the circuit card components from the Allegro Layout tool. Since size, weight and power (SWaP) are critical in a lot of applications, NuWaves understands the importance of miniaturization and makes that a key concern in any design.
The mechanical suite also has an available 3D thermal analysis plug-in (SolidWork's Thermal Simulator) which predicts heat flow and resulting temperatures as a function of the dissipated power of each of the components. As a result, our team can quickly transform any concept and generate production ready documentation for any product.
In many cases, the mechanical design will also include RF shielding in addition to a complete shock and vibration study prior to hardware build. This early consideration of harsh environments allows NuWaves to provide quick-tempo and cost-effective solutions that will meet the ultimate requirements of the customer.
NuWaves Engineering has invested significant resources in developing our rapid prototyping capabilities with in-house equipment that allows our team to instantly procure prototype hardware following a design – utilizing our 3D printers, in-house machine shop, and printed circuit board (PCB) prototype fabrication equipment. These in-house resources, along with our state-of-the-art simulation software, gives our engineering team the opportunity to conceive, design, implement, manufacture, and validate a product, using rapid prototyping methods and computer-aid tools. A course of iteration, fabrication, and validation comprises this initial design cycle. Our engineering design team then conducts design optimization practices using structural analysis software, with their phase one prototype as a baseline.

Eliminating the need to rely on slow and unpredictable 3rd party vendors for prototype hardware creates unnecessary risk when creating a project budget and schedule. Having complete control of the development process allows us to more accurately budget and forecast our project schedules, where we pass those savings along to our customers.
PCB Prototyping
To support rapid prototyping activities, NuWaves has printed circuit board prototype fabrication capabilities in-house which utilize a computer controlled machine to route circuit traces and drill vias on the circuit board. Since it is fabricated from the standard Gerber files, the complete printed circuit board has exactly the same characteristics as a circuit board fabricated using conventional chemical etch process. Because the total process is in-house, complete circuit card assemblies can be built in short order by skilled assemblers who can perform the hand placement typically used for prototype circuit boards. Moreover, NuWaves has automated parts placement equipment for very high production quantities, and skilled assemblers to complete the hand placement typically used for prototype circuit boards.
Tormach CNC Milling Machine
NuWaves also maintains a state-of-the-art machine shop equipped with the following tools:
Knee and Column mill (i.e. Bridgeport mill)
Engine Lathe, 13 inch swing, 48 inch bed, 32 inches between centers
HAAS DTM2 CNC mill, 28 x 16 x 15.5 table movement, 3 + 2 axis table with modular vise, 20K spindle, 0.9 second tool changes, 2,400 ipm rapid, 5000 RPM rigid tapping
…used to support manufacturing of all mechanical chassis for our entire line of COTS products, our rapid-fill custom RF cavity filters, and for any custom chassis or mechanical modifications that might be needed to support a rapid prototyping effort for a design project.