Aerospace and Defense Industries
NuWaves started by providing system maintenance and modernization for the Navy's large asset tracking equipment. Since then, we have expanded our customer base to include all departments of the D.o.D., most government prime contractors, as well as new industries and markets. We are continuously finding new and exciting ways to utilize RF technology to solve the problems of our growing customer base.
As a leading RF engineering services and products company, NuWaves addresses the needs of a diverse customer base within DoD, and non-DoD Industrial markets. Market areas of particular focus for the company within DoD include:
Lifecycles of DoD communication electronics systems are being extended as a result of significant tightening of defense budgets. NuWaves is well-positioned to provide key system sustainment services to DoD and prime contractor customers based on in-depth organizational knowledge and a track record of exemplary performance in this market area. NuWaves system sustainment experience includes:
Engineering Design Services
System Upgrades and Enhancements

Gap Analysis between Legacy and Future Systems
NuWaves is a key supplier of the U.S. Navy's Tactical Training Range (TTR) programs, which provide tracking of surface and air participants at shore-based sea combat training ranges. NuWaves role in these programs has grown exponentially over the years as a result of consistently providing outstanding results and value to its customers and, most importantly, the warfighter.
Unmanned Aircraft Systems
RF communication systems are vital components of Unmanned Aircraft Systems (UAS), providing the lifeline between the aircraft and its operators and support network on the ground. Manufacturers, system integrators, and end users of small UAS categorized as Group 1, 2, and 3 face substantial technical challenges in providing robust communication systems capable of providing the data throughput required for the mission while minimizing size, weight, and power consumption.
None the least of the technical challenges is ensuring that solid RF links are maintained among network participants. RF expertise is oftentimes required to address issues related to communication range and link reliability due to the many variables involved in RF communication systems, including transceivers, cabling, antennas, etc. NuWaves has the necessary RF expertise, working knowledge of the top radio systems for small UAS (e.g. Bandit, DDL, Wave Relay, etc.), and field experience to help customers successfully plan, design, and deploy effective communication systems for unmanned aircraft. Furthermore, NuWaves is capable of evaluating and debugging problematic RF systems to help overcome potential obstacles to achieving mission success.
NuWaves offers a broad line of COTS RF Products as well as custom solutions RF Design Services to architect or augment existing communication systems. Contact NuWaves to help plan, deploy, improve or debug your UAS RF communications system.
NuWaves' modular designs are ideal for the Electronic Warfare and Signal Exploitation markets. The company has several high-performance, high-dynamic range RF Front-End receivers and RF Tuners that deliver superb performance in high signal environments for signal exploitation. The receivers and tuners boast a proprietary front-end architecture delivering high linearity throughout the entire receiver's system. The tuner/receiver intercepts RF signals over multiple octaves and down-converts to standard intermediate frequencies. The command interface is simple, providing user control of the receiver's various parameters (e.g. frequency, AGC, bandwidth control, etc.) Applications include the RF/IF section for tactical receivers, surveillance receivers, Electronic Intelligence (ELINT), Communications Intelligence (COMINT), Signal Intelligence (SIGINT), Digital Receivers, and communication down-converting receivers.
In the Electronic Attack (EA), and more specifically Airborne Electronic Attack (AEA) area of EW, NuWaves offers high-efficiency, broadband high power amplifier design capabilities for a variety of frequency bands — from HF to Ku. To learn more, visit our NuPower RF Power Amplifiers page or the power amplifier design services page.
Possible custom Electronic Warfare and Signal Exploitation and RF Stealth solutions could include:
Ultra-wideband Front-End Networks

Low Noise Front-Ends Integrated with High Performance Varactor Tuned Filters
Signal Sources and Tone Generators

Miniature High-Performance Receivers

Wideband Filter Networks for Software Defined Radios
The DoD test and training range community demands high-performance, robust, and reliable communication electronics for telemetry not only because test and training assets are expensive to operate, but even more importantly — people's lives are at stake.
Over the years NuWaves Engineering has been tapped by both DoD and industry customers to develop some of the most sophisticated RF designs for use in flight test and training exercises. Our designs can be found in transmitters, receivers, demodulators, transponders, flight termination receivers, TSPI (Time, Space Position Information) modules, etc.
VHF, UHF, L, & S Band Tunable Filters

Point to Point Communication Links

RF Downconverters and Upconverters

Test Racks, Test Beds, and Test Systems
System Support Activity (SSA) for DoD Test Ranges

DoD Test Range System Sustainment, Depot Level Repair, Technical Services

Transmitter, Receiver, and Transceiver Development for Telemetry Systems

RF Consultants (RF Propagation, EMI, DD 1494, etc.)

RF Power Amplifier Modules Development, VHF, UHF, L-Band, S-Band, C-Band
NuWaves products and custom designs have not only been employed extensively within telemetry-related applications, but also in the tactical communications realm as well. The examples of our innovative products and designs being leveraged to solve tactical communications problems include:
High-efficiency solid state power amplifiers used to extend communication range for small- to mid-sized Unmanned Aircraft Systems (UAS), allowing the operator to work from far greater stand-off distances or penetrate deeper into a particular area of interest.

Frequency transverters that interface directly with third-party data links to enable communications at alternative frequency bands.

RF upconverters and downconverters that are used to interface with third-party digital signal processing (DSP) modules to produce a high-performance, customized communication system with superior configuration versatility.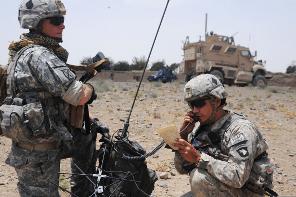 Industrial, Mining, and Underground Communications
NuWaves Engineering has been successful applying their expertise in RF Engineering to Through-the-Earth applications, providing cost-saving solutions for customers in the mining and tunneling industries, and branches of the D.o.D. looking to increase their capabilities in underground combat scenarios. From supporting Through-the-Earth mine communications, to aiding in the operation of tunnel boring and directional boring machines to identify the most profitable areas to tunnel, NuWaves is a leader in using RF technologies and practices to improve the effectiveness of existing processes and optimize the operation of existing equipment to work with maximum efficiency.
Now with a portfolio of commercial off-the-shelf products and a wide breadth of design services, NuWaves has grown its client list to include companies serving industrial and commercial markets, including many Fortune 500 companies. No matter the market, NuWaves can easily adapt and provide a quick-turn development effort for any RF application.
Follow the links below for more information about our Products, and Capabilities.