RF System Design
For Communication, Telemetry, and Electronic Warfare Systems
NuWaves has expertise in the design and development of RF systems such as transmitters, exciters, receivers and transceivers within larger-scale communication, electronic warfare, and telemetry systems. Our experienced engineering staff has the expertise, capabilities, and tools to design, develop, prototype, manufacture, and test fully-integrated RF and microwave systems. With well over a decade of successful design experience, the company's existing core designs help accelerate the development process for its clients.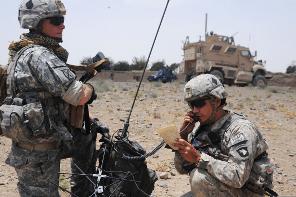 If you are interested in having NuWaves Engineering perform RF System Design Services for your team, click on the REQUEST ADDITIONAL INFORMATION button below, submit your contact information and a brief description describing your project and RF system requirements, and a member from our Engineering Services team will reach out to you within 24 hours.
NuWaves' in-depth knowledge, experience, and key personnel allow us to offer a full spectrum of solutions to maximize your RF capability and readiness, and engineer a lasting partnership. NuWaves Engineering is driven to advance your mission; challenged to achieve excellence.
Otherwise, click on one of the buttons below to continue checking out our capabilities and experience.