RF Power Amplifier Design
Market-Leading Size, Weight, and Power Consumption PAs
In addition to NuWaves' full line of COTS power amplifiers and bidirectional amplifiers, the company also provides design services to develop or tailor solutions that meet specific requirements, such as RF output power, linearity (e.g. EVM), or size, weight, and power consumption (SWaP).
NuWaves' RF power amplifier design experience includes:
C-Band PA MMIC – A C-band power amplifier monolithic microwave integrated circuit (MMIC) device and connectorized module under development that is intended to meet the demanding needs of unmanned systems applications. Learn more.

S- & C-Band PA – A high-performance solid-state power amplifier that covered the entire 2.5 – 6.0 GHz range, with an output of 15 W.

HF PA – A 100 Watt power amplifier that operated in the HF band and supported burst transmissions with high duty cycles. The pulsed amplifier is highly reliable and meets the demanding environmental requirements within the industrial market place. VSWR protection, programmable on/off duty cycles and pulse repetition rates, as well as programmable RF output power are only a few of the attributes of this high quality design.

Ultra High Efficiency Class F & Inverse Class F Power Amplifier – High efficiency Space Earth Radar Observation System (HESPEROS) yielding efficiencies in the range of 60% to 80%.

Commercial Cellular Base Station Power Amplifier – Delivered greater than 50 Watts of RF power between  800 – 960 MHz when driven with 10 Watts. Operated in class AB mode, the assembly supported both Analog and Digital modulation formats. The final deliverable product provided High Gain, Broadband Operation, and a Load Mismatch Tolerance of 5:1. NuWaves Engineering successfully integrated in cellular base station power amplifiers into the customer's legacy systems to provide a complete solution.

MMIC PA for BLOS UAV Communication – Designed a miniaturized PA device capable of Psat > 25 Watts from 29.5 – 30.0 GHz, ideal for integration into small size, weight and power (SWaP) SATCOM terminals supporting UAS platforms, including small Group II vehicles. Key technologies are novel high efficiency techniques and miniaturized PA designs that are fabricated as a custom monolithic microwave integrated circuit (MMIC).

Power Amplifier Linearizer Module – An applique that improved the linearity of a high-efficiency PA while minimizing its required power back-off in support of amplitude-modulated waveforms such as OFDM, QAM, etc. Requiring no manual adjustments, the PALM's adaptive correction maintains optimal linearity over amplifier temperature drift, power output, and other impairments. The PALM is ideal for linearizing high-efficiency PAs regardless of topology: Class A, AB, Doherty; or device technology: GaN, GaAs, LDMOS. By enabling high-efficiency PAs to operate linearly without the traditional limitations on output power, the PALM improves the range of broadband communication systems.

100 Watt GaN SSPA – a low SWaP 100 Watt GaN L & S-Band PA covering 1600 – 2500 MHz in a 6.5″ x 4.5 x 1.0″ package that weighs 22.6 oz.

High Efficiency, High Linearity PA – L-band transmit frequency with a P1db > 50 Watts
Research, design, and development of a high-efficiency, high-linearity C-band power amplifier for unmanned aircraft systems (UAS) based on a custom Monolithic Microwave Integrated Circuit (MMIC) design.
Third-Party RF Amplifier Evaluation & Repair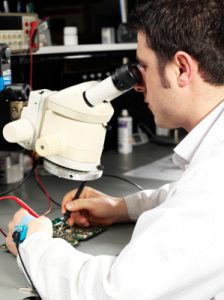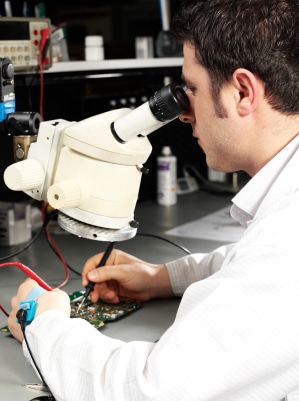 Evaluation, troubleshooting, and repair of high-powered amplifier modules without benefit of any technical drawings or documentation.
Comprehensive evaluation and deep-dive analysis of the transmit circuitry
Successful repair validated through third-party testing
Originally designated "beyond economical repair" by supplier, units were cost-effectively repaired and fielded
If you are interested in having NuWaves Engineering design a RF Power Amplifier for your team, click on the REQUEST ADDITIONAL INFORMATION button below, submit your contact information and a brief description describing your project and power amplifier requirements, and a member from our Engineering Services team will reach out to you within 24 hours.
NuWaves' in-depth knowledge, experience, and key personnel allow us to offer a full spectrum of solutions to maximize your RF capability and readiness, and engineer a lasting partnership. NuWaves Engineering is driven to advance your mission; challenged to achieve excellence.
Otherwise, click on one of the buttons below to continue checking out our capabilities and experience.