RF Frequency Converter Design
High-Performance and Cost-Effective RF Front Ends
NuWaves' Frequency Converter Design Services provide our customers with dynamic frequency operation within existing systems. Frequency allocation is subject to change, which can be a problem for existing systems that don't have wide flexibility in frequency operation. That is where NuWaves Engineering comes in with a complete solution to keep your existing communications setup relevant by simply converting the frequency at the Tx and Rx ports, so that your system can operate internally at the frequency it was designed to operate at, while your over-the-air transmissions comply with whatever frequency allocation you have been designated. Why replace a reliable RF system to comply with the frequency you have to operate at, when all you really need is a small add-on accessory?
In recent years, NuWaves Engineering has taken on an unprecedented number of frequency converter design projects to support customers in transitioning their existing communication systems to operate at different frequencies. When the cost to replace your entire communications system exceeds 7 and 8 figures, it is well worth examining alternative solutions. Take a look at some of our past Frequency Converter Design projects below to see how we have been able to keep customer's existing communication systems functional and in the field, regardless of what frequency you are given to operate at:
NuWaves' RF Frequency Converter Design Experience Includes:
Wideband IF-to-RF Upconverter – Accepts an IF input in the range of 10 MHz to 70 MHz as is and upconverts to any frequency in the range of 10 MHz to 3 GHz with 5 kHz step sizes. The IF bandwidth of the upconverter is user seloectable as 4 MHz or 35 MHz. The upconverter incorporates over-current and reverse voltage protection and user-selectable attenuation control from 0 to 50 dB.

L-Band Upconverter – Fast paced 7-week development effort. The hardware supports CubeSat Missions and is needed to enable communication on multiple frequencies and waveforms simultaneously while enabling high power transmissions to overcome losses and canopy penetration. This module allows you to transmit your signal anywhere is L-Band and even some S-Band frequencies.

Wideband Block Downconverter – Two channel ultra wideband mixing and signal conditioning unit capable of downconverting any signal from 100 MHz to 10 GHz down to baseband.
RF Front-End Technologies
The following building block technologies can be applied to develop the ideal RF frequency converter for nearly any RF communications, telemetry, or electronic warfare application:
Oscillators – DRO, XTAL, CRO, SAW, discrete – from 5 MHz to 20 GHz. NuWaves has experience utilizing the following types:
Free-running, voltage controlled, mechanicall & digitally tuned, frequency multiplied, amplifier buffered or isolator output, and phase-locked oscillators with internal/eternal reference.
Frequency Synthesizers with custom references and step sizes.
Ultra-low noise multipliers.
Comb generators with internal & external reference to provide multiple simultaneous frequencies and reliable reference source.
Filtering up to 50 GHz – check out our Filter Design Service Capabilities and our COTS Filter Products.
Phase Shifters, Couplers, Power Dividers & Combiners, & Custom Switch Modules.
NuWaves RF frequency converter designs provide superior performance tailored to the requirements of the system, while utilizing the latest techniques and devices to achieve the smallest form factor, weight and power consumption possible.
C-Band Transverter System for Bandit & CMDL Transceivers
NuWaves was contracted to design, develop, and manufacture a custom C-band transverter system to enable the L-3 Bandit transceiver to operate over C-band frequencies. The prototype system includes an L-to-C-band RF upconverter and amplifier module, C-to-S-band RF downconverter module, and a duplexer.
The system upconverts and amplifies a fixed L-band IF signal from the Bandit transceiver to an RF signal in the range of 4400-5000 MHz, and then downconverts  an RF signal in the range of 5250-5850 MHz to a fixed S-band IF signal for interfacing to the Bandit transceiver. The system was test flown on an Arcturus T-20 UAS.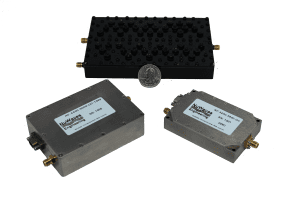 The C-band transverter system developed by NuWaves enabled a Bandit transceiver to communicate with a CMDL transceiver over C-band frequencies.
Custom RF Upconverter & Downconverter

NuWaves developed a high-performance, RF upconverter and downconverter module pair for a major large D.o.D. prime contractor. Based on NuWaves' Multi-octave RF Upconverter (MORF) and ConvertaWave2 downconverter products, the custom modules featured UHF, L- and S-band coverage and a custom IF, high dynamic range, flat pass band, signal conditioning with high linearity, low insertion loss, and comprehensive programmability. NuWaves was also contracted to add performance improvements to the downconverter module, which included improved linearity, spurious rejection, phase noise, and additional resolution in the attenuation control.
L-Band Up-Converter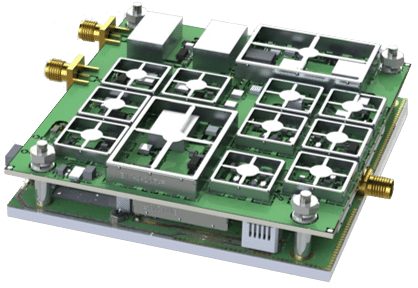 Fast paced 7-week development effort. The hardware supports CubeSAT Missions and is needed to enable communication on multiple frequencies and waveforms simultaneously while enabling high power transmissions to overcome losses and canopy penetration.
Wideband Block Downconverter
Developed a prototype circuit card assembly for a two channel ultra wideband mixing and signal conditioning unit to be used with a Field Programmable Gate Array (FPGA) based Digital Signal Processor (DSP).  Prototype capable of downconverting any signal from 100 MHz to 10 GHz down to baseband
NuWaves' Commercial-off-the-Shelf (COTS) Solutions
Third-Party RF Frequency Converter Evaluation & Repair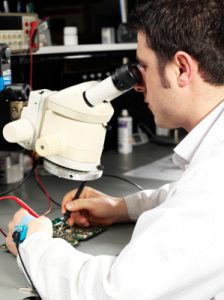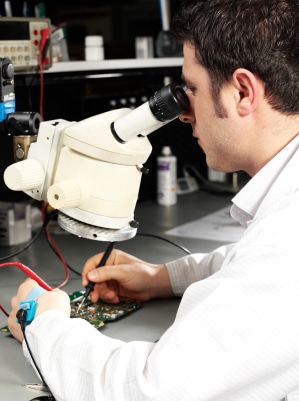 Evaluation, troubleshooting, and repair of Frequency Converter modules without benefit of any technical drawings or documentation.
Comprehensive evaluation and deep-dive analysis of the transmit and receive circuitry
Successful repair validated through third-party testing
Originally designated "beyond economical repair" by supplier, units were cost-effectively repaired and fielded
Contact NuWaves' RF Design Team
If you are interested in having NuWaves Engineering design a RF Frequency Converter for your team, click on the REQUEST ADDITIONAL INFORMATION button below, submit your contact information and a brief description describing your project and frequency converter requirements, and a member from our Engineering Services team will reach out to you within 24 hours.
NuWaves' in-depth knowledge, experience, and key personnel allow us to offer a full spectrum of solutions to maximize your RF capability and readiness, and engineer a lasting partnership. NuWaves Engineering is driven to advance your mission; challenged to achieve excellence.
Otherwise, click on one of the buttons below to continue checking out our capabilities and experience.