RF Filter and Multiplexer Design
Cavity, Lumped Element, Stripline, and Microstrip Filters
As a turn-key RF solutions provider, NuWaves offers RF filter design services rivaling the industry's major filter manufacturers, specializing in high-performance designs and industry-leading lead time. From simple lumped element filters to clean your transmit signal, to printed circuit board-based stripline and microstrip filters, to multiplexed high-power and high-Q cavity filters and beyond, NuWaves' engineers bring decades of experience to bear in the design, prototyping, tuning and testing of advanced RF filters.
NuWaves successfully completed multipaction testing exceeding 500 Watts, while achieving insertion loss of less than 0.5 dB, for a bandpass filter designed for Global Positioning System's (GPS) L1 bandpass filter, the completed triplexer designed for the Air Foprce Research Lab's (AFRL) Technologically Advanced N-plexer for GPS III Operation (TANGO), raising the bar for space qualified components by creating best-in-class multipaction performance.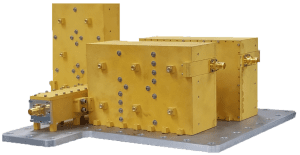 Ultra-Low Passive Inter-Modulation (PIM) Diplexer
NuWaves Engineering designed an ultra-low PIM diplexer for MUOS satellite communications for the Navy. The design strategy focused on overcoming traditional electrical performance limitations of a PCB based diplexer. These elements included using atypically thick substrates and shadow traces to yield low insertion loss, and reduce current density to lessen the effects of PIM.
High Performance Triplexer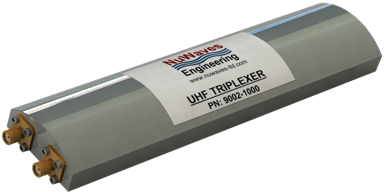 NuWaves Engineering developed a triplexer for use by the Communications at Speed and Depth Program(s) for the Navy. The triplexer designed by NuWaves Engineering was Military UHF SATCOM Band Compliant and MUOS Band Compliant allowing for ease of integration for the customer. Additionally, the final product also achieved a lightweight design, low insertion loss, low manufacturing cost, support of high G-Force applications, high out-of-band attenuation, high RF power handling capability, and high reliability.
Tri-Band Front End Multiplier
Design and Development of a multi-band Front-End filter employing tuned inter-digital filter techniques and the design of a multi-band multiplier for a telemetry system operating in L & S-Band.
NuWaves' HiperTUNER is a state-of-the-art miniature RF Tuner utilized for RF signals in the band of 200 MHz to 2.5 GHz. HiPerTUNER meets the demanding need for high performance receiver pre-selector and transmit filtering for applications involving RF communications and signal exploitation, inclusive of SIGNIT, COMINT, and ELINT.
The HiPerTUNER integrates with a host controller or terminal program and utilizes a straight-forward command/control interface for ease of integration. The HiPerTUNER provides high-dynamic range performance with low noise figure and boasts superb multiple-cascaded varactor-tuned filtering achieving bandpass filter bandwidths of 1-3%.
If you are interested in having NuWaves Engineering design a custom RF Filter or Multiplexer for your team, click on the REQUEST ADDITIONAL INFORMATION button below, submit your contact information and a brief description describing your project and filtering requirements, and a member from our Engineering Services team will reach out to you within 24 hours.
NuWaves' in-depth knowledge, experience, and key personnel allow us to offer a full spectrum of solutions to maximize your RF capability and readiness, and engineer a lasting partnership. NuWaves Engineering is driven to advance your mission; challenged to achieve excellence.
Otherwise, click on one of the buttons below to continue checking out our capabilities and experience.