NuFilter™ High Performance Custom RF Filters
The NuFilter™ product line includes quick-turn custom filters and complex custom filters. We design various filter topologies such as Bandpass, Highpass, Lowpass, and Notch filters.
Our QUICKFIL program provides quotations within 24 hours with a response plot and mechanical drawing. Receive your finished filter within 2 – 3 weeks after receipt of order. This program fulfills our quick-turn methodology of filters that are moderately complex in design and within the following parameters:
1 to 15 GHz
5% to 28% 3 dB bandwidth
Up to 50 W power handling
Bandpass Combline Cavity
Are your specifications outside of these parameters? Not to worry, we cater to a full spectrum of RF filters.
Our CUSTOMFIL program provides the same expertise, but caters to more design-intensive, complex orders. The lead times reflect this complexity and can be longer than 3 weeks, typically less than 8 weeks.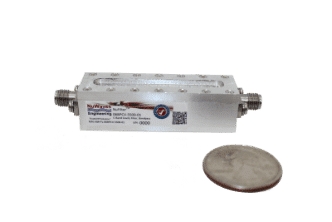 Request A Custom Filter Quote Form
Check out our latest RF filter blogs:

A Little Background Conflict is inevitable, and as a result, military force is required if a peaceful solution is unattainable. One of the numerous outcomes of this course of action has been the evolution of battle strategy and weaponry, for the sole purpose of either efficiently defeating the enemy or defending against their attack (countermeasures).
Read More »