NuFilter™ High Performance Custom RF Filters
The NuFilter™ product line includes quick-turn custom filters and complex custom filters. We design various filter topologies such as Bandpass, Highpass, Lowpass, and Notch filters.
Our QUICKFIL program provides quotations within 24 hours with a response plot and mechanical drawing. Receive your finished filter within 2 – 3 weeks after receipt of order. This program fulfills our quick-turn methodology of filters that are moderately complex in design and within the following parameters:
1 to 15 GHz
5% to 28% 3 dB bandwidth
Up to 50 W power handling
Bandpass Combline Cavity
Are your specifications outside of these parameters? Not to worry, we cater to a full spectrum of RF filters.
Our CUSTOMFIL program provides the same expertise, but caters to more design-intensive, complex orders. The lead times reflect this complexity and can be longer than 3 weeks, typically less than 8 weeks.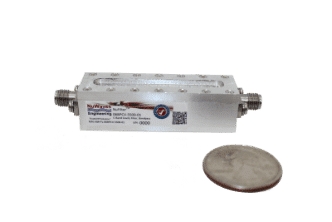 Request A Custom Filter Quote Form
Check out our latest RF filter blogs:

The Tesla coil provides a high voltage demonstration of a resonant transformer. Although primarily used for entertainment purposes, with its long electrical arcs and noise, it also provides a path to understanding basic RF resonant circuits; just part of the many considerations involved when designing RF circuits. Overview of Design There are many paths one
Read More »