In-House Testing Capabilities
Production & Engineering Test
To complement the state-of-the-art Production and Engineering capabilities, NuWaves has invested significant resources to develop their Engineering Validation Testing, Environmental Testing, and Qualification Testing.  NuWaves' capital equipment inventory includes but is not limited to, RF/Microwave Spectrum Analyzers, Signal Generators, Oscilloscopes, Power Supplies, Function Generators, Bit Error Analyzers, Modulation Analyzers, Frequency Counters, Network Analyzers, Noise Figure Meters, Optical Spectrum Analyzers, Function Generators, Humidity Chambers, Temperature Chambers, Burn-In Chambers, Water Immersion Tank, RF Screen Cages, and an Anechoic / EMI Chamber. In addition, NuWaves has a full complement of computers and support software dedicated to the engineering functions, operated by experienced and qualified RF engineers and technicians..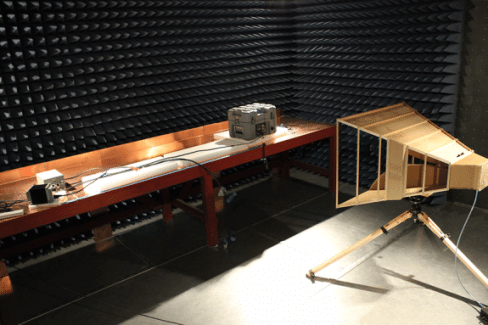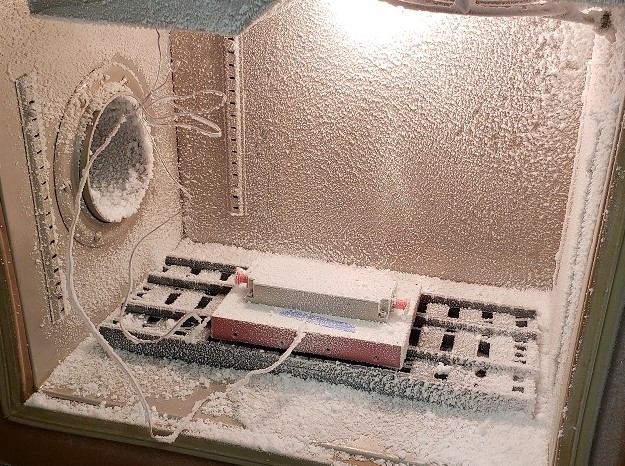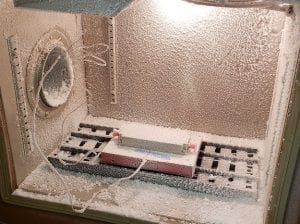 A NuWaves' C-Band PA undergoing thermal shock testing
In support of NuWaves' rapid-pace manufacturing is the company's advanced automated testing capabilities. NuWaves utilizes the industry's latest automated test software to complement our extensive in-house testing equipment to hasten the pace and accuracy of product testing.  Not only does NuWaves leverage this technology to test its own products, but it has also developed a stand-alone automated test station for a U.S. Navy Tactical Training Range (TTR) program, which allows the customer to test and verify operation of critical electronic subsystems.
All of NuWaves's designs are built for ruggedization and durability to stand the test of time for our D.o.D. and aerospace customers.
Check out some of our test and validation blog topics:
In addition to RF performance & validation testing, NuWaves also has the capability to conduct a wide variety of in-house environmental verification and qualification testing, including temperature, humidity, vibration, shock, acceleration, water immersion, and electromagnetic compatibility (EMC).
NuWaves is dedicated to the ruggedization, reliability, and overall quality of every piece of hardware that leaves our manufacturing facility. After all, the Warfighter must depend on hardware to endure harsh environments without sacrificing performance. That is why our products undergo a variety of environmental tests, whether it is to fulfill a specific customer requirement or to align with our internal quality procedures.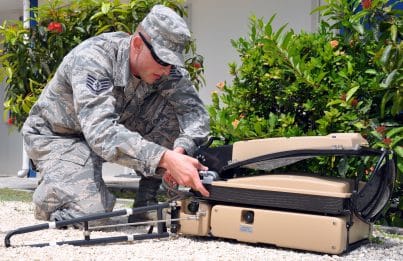 Comprehensive Testing Hardware & Intermediate Maintenance System
The Tactical Training Transponder Test Bed (T4B) (shown right) and Common Portable Test Unit (CPTU) (AN/USM-721) (shown left) provide comprehensive testing capabilities allowing you to quickly identify & diagnose issues, troubleshooting problems on-site and reduce downtime. NuWaves Engineering is a leader in designing, developing, and maintaining test systems and procedures to troubleshoot issues that arise both in the field and in the lab.
The T4B is designed to perform troubleshooting on the AN/URY transceiver modules as they arrive for depot-level maintenance. This comprehensive testing system easily identifies problems/issues and isolates their repair, allowing depot-level maintenance times to be kept as low as possible and prevent you from spending unnecessary money on components that do not yet need replaced. The CPTU is a portable test system that is used in the field to test and monitor telemetry instrumentation, and to quickly and easily identify, diagnose, and troubleshoot any problems or issues that arise and address them on the spot, increasing your operational efficiency and reducing downtime when issues arise.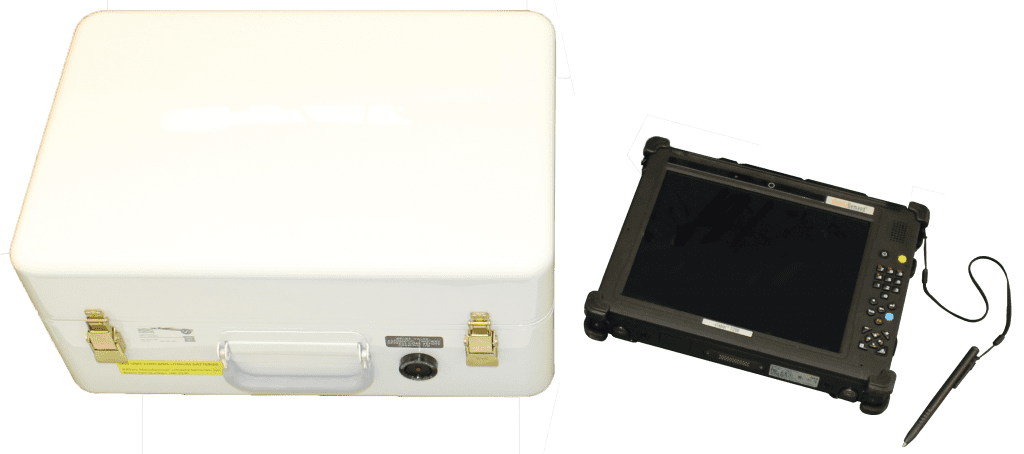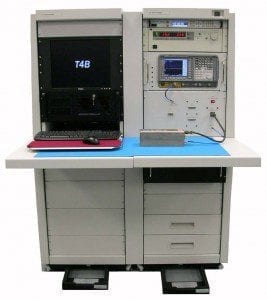 Common Portable Test Unit allows users to monitor and test their RF Tactical Training Range system in the field and diagnose and troubleshoot issues on-site as they arise.
T4B testing system designed to diagnose the AN/URY-2, 3, 3A, 4, 5 & 6 transceiver modules for issues to efficiency repair and refurbish broken transceiver units.
Learn more about how we can improve your responsiveness in the field and allow you to better manage your resources to strategically troubleshoot issues and resolve them with minimal downtime.
NuWaves in obsessed with continually expanding out in-house testing and evaluation capabilities to position ourselves ahead of our competition. Our in-house capabilities help ensure that our products always meet or exceed our customers' expectations when it comes to quality and ruggedization. Whatever your requirement, Think NuWaves!
Contact NuWaves when your next project requires Testing & Verification Expertise.