RF Bidirectional Amplifier Design
BDA Designs Incorporating High Efficiency, Fast T/R Switching, Low Noise Figure
Low & Band Pass Embedded Filtering
Ultra Low Noise Figure for Data Link
NuWaves' Bidirectional Amplifier design services deliver high-performance solutions that are in many cases started from existing circuit designs, thus lowering the development cost for our customers. Our design services and AS9100-certified quality management system help ensure that customers' requirements and key performance parameters are met, such as DC power efficiency, small size and lightweight packaging (i.e., SWaP), high linearity (low error vector magnitude, or EVM), low noise figure, or a combination thereof.
Examples of NuWaves' bidirectional amplifier design service solutions:
Linear S-Band Bidirectional Amplifier Design
Developed as a small, lightweight, and power efficient (low SWaP) linear bidirectional amplifier ideal for extending the communication range of half-duplex S-band transceivers running amplitude modulated waveforms (e.g. OFDM, WAM, DVB-T, etc.). This Bidirectional Amplifier generates 5 Watts of linear RF power from 2200 to 2500 MHz given a 10 dB Peak-to-Average Power Ratio (PAPR) waveform. The integrated low-noise amplifier provides a minimum of 13 dB of gain in receive mode.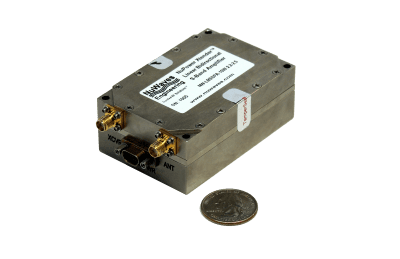 UHF Bidirectional Amplifier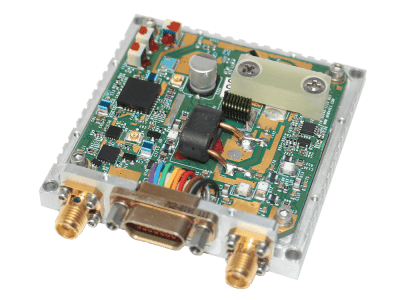 This bidirectional amplifier is ideal for extending the communication range of half-duplex transceivers with constant-envelope waveforms (i.e. PSK- and FSK-based modulations, such as SOQPSK and GFSK), and generates 10 Watts of RF transmit power. The module accepts a +5 dBm input level and provides 35 dB of transmit gain, all while operating with 30% or better power efficiency at most frequencies. In receive mode, the NuPower Xtender offers a low noise figure of 3.5 dB and incorporates a low noise amplifier that provides 15 dB of gain.
The NuPower Xtender features manual transmit / receive (T/R) mode selection, coupled with an extremely fast T/R mode switch time of 2 μS.
With a small form factor (3.8 cubic inches) and state-of-the-art Gallium Nitride (GaN) power amplifier device technology, the NuPower Xtender VHF/UHF Bidirectional Amplifier module is ideal for broadband RF telemetry and communication systems that require reliability and minimal size, weight, and power consumption (SWaP).
Miniature C-Band Bidirectional Amplifier
5-Month development of a C-Band Bidirectional Amplifier with a 3.57″ x 2.57″ x 0.50″ and 2.6 oz. form factor capable of providing 10 Watts of RF output power from 4400 to 5100 MHz.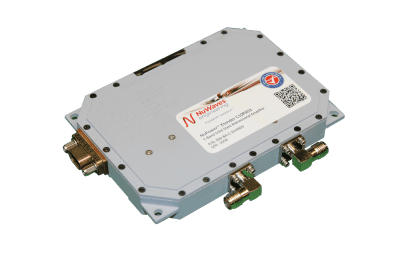 Ultra High Efficiency Class F & Inverse Class F Bidirectional Amplifier – High efficiency Space Earth Radar Observation System (HESPEROS) yielding 60% to 80% efficiency with switching times < 1 µs. Has a peak output power greater than 25 Watts in P, L, and X-Bands. Has an both an amplitude stability < 0.1 dB & phase stability < 1° with 1 µs settling time.

L-Band Booster Amplifier – A high-efficiency bidirectional amplifier developed specifically for vehicle-mounted tactical radios, this design featured built-in-test (BIT) and several other diagnostic features in addition to a 20 Watt output.
Commercial-off-the-Shelf (COTS) Bidirectional Amplifier Products
VHF/UHF Bidirectional Amplifiers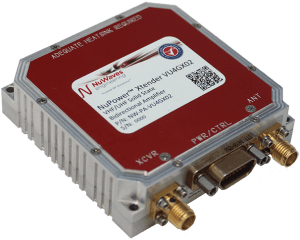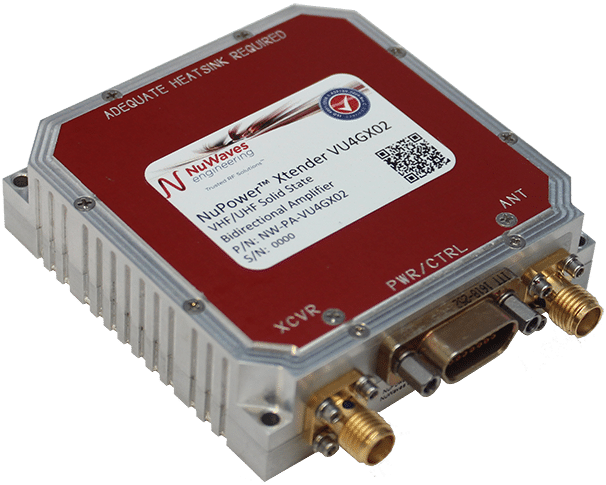 225 to 512 MHz Bidirectional Amplifiers providing 10 Watts Saturated RF output power, 4 Watts Linear
L & S-Band Bidirectional Amplifiers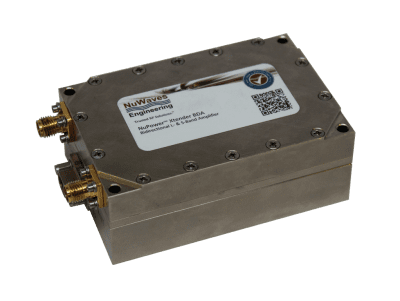 10 and 15 Watt Saturated RF output power with continuous frequency coverage from 1000 to 2500 MHz
Third-Party RF Amplifier Evaluation & Repair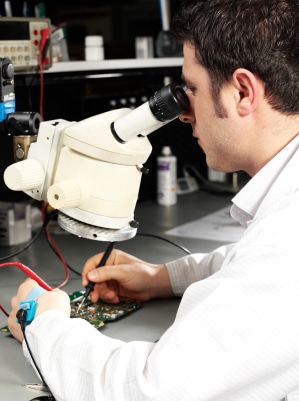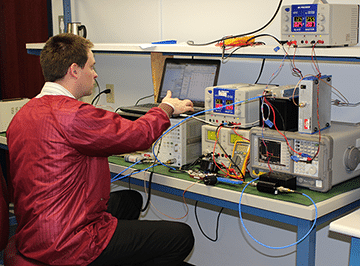 Evaluation, troubleshooting, and repair of high-power bidirectional amplifier modules without benefit of any technical drawings or documentation.
Comprehensive evaluation and deep-dive analysis of the transmit and receive circuitry
Successful repair validated through third-party testing
Originally designated "beyond economical repair" by supplier, units were cost-effectively repaired and fielded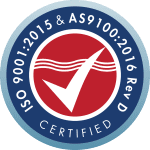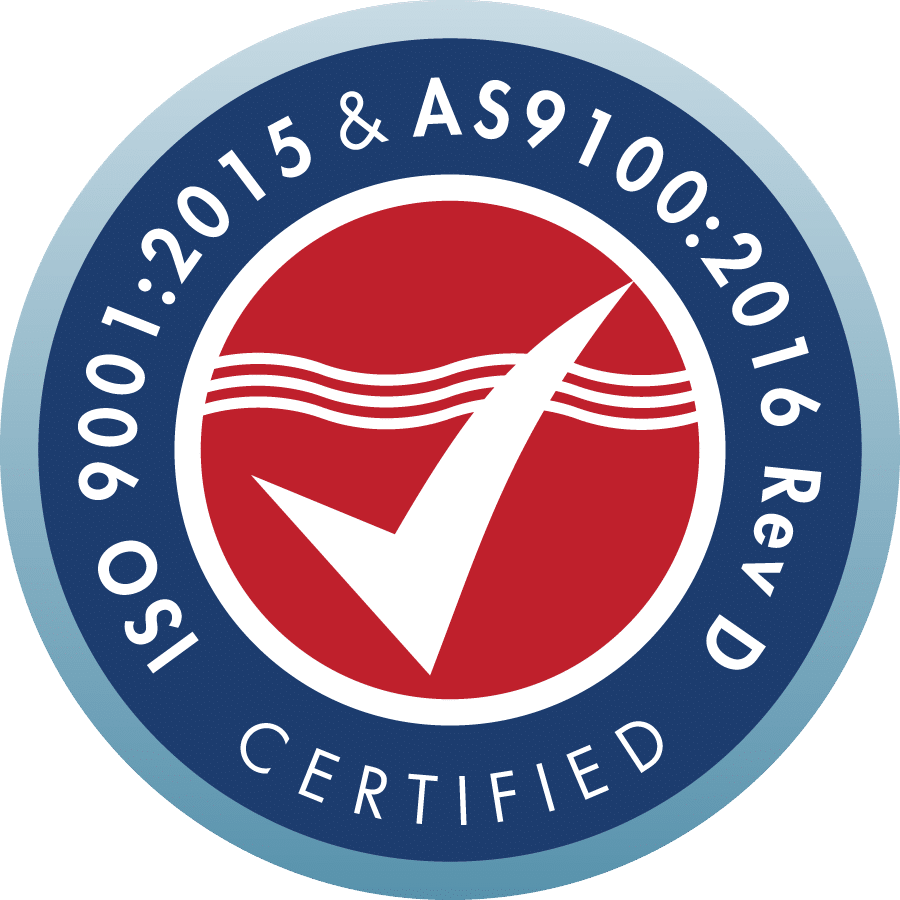 Contact NuWaves' Bidirectional Amplifier Design Team
If you are interested in having NuWaves Engineering design a RF Bidirectional Amplifier for your team, click on the REQUEST ADDITIONAL INFORMATION button below, submit your contact information and a brief description describing your project and bidirectional amplifier requirements, and a member from our Engineering Services team will reach out to you within 24 hours.
NuWaves' in-depth knowledge, experience, and key personnel allow us to offer a full spectrum of solutions to maximize your RF capability and readiness, and engineer a lasting partnership. NuWaves Engineering is driven to advance your mission; challenged to achieve excellence.
Otherwise, click on one of the buttons below to continue checking out our capabilities and experience.